Meet the dedicated staff members of Lake Wilderness Arboretum.
Susan Goodell, Garden Manager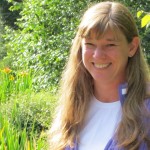 I grew up loving the outdoors and nearly 20 years ago I caught the gardening bug as a young homeowner. Since then, I have earned a degree in landscape design, designed gardens for friends and family, created and maintained several of my own gardens and volunteered at LWA for five years. I am looking forward to bringing my landscape design training and work experience in marketing, communications and customer service to the thoughtful development and maintenance of the Arboretum.
Bob Wahlberg, Property Manager
I was born with a love for gardening and planted my first vegetable garden when I was four years old. In all of my years, wherever life took me, I have always studied landscape design, plant cultivation and propagation techniques. During my school years and then in my career as a professional engineer and business manager, gardening and the study of horticultural practices was the avocation that filled my leisure time. Working at the Arboretum allows me to utilize these skills, knowledge and abilities gained in my years as a professional and as a devoted student of horticultural practices. And, most importantly, it allows me to exercise my lifelong love for gardening.