LAKE WILDERNESS ARBORETUM EXPLORE. . . . SERIES TO START THIS MONTH
Lake Wilderness Arboretum Foundation is kicking off a new "Explore With Us . . ." program in 2017 that will explore what can be found at Lake Wilderness Arboretum in Maple Valley – its gardens, displays, trails, as well as an array of opportunities to educate and enjoy. Coordinated by the Foundation's docent group, most of the Explore one-to-two hour programs will take place in mid-morning or early afternoon at or in close proximity to the arboretum. All of these monthly programs are free and open to the public unless otherwise posted.
On Thursday, January 12th, the Foundation will present the first "Explore With Us . ." program at the Cedar Room at Lake Wilderness Lodge from 12:30pm to 1:30pm. This program will feature a slide presentation by Lake Wilderness Arboretum Garden Manager Susan Goodell. Susan will brighten the day with pictures as we explore the gardens, unique specimen plants, and native second growth forest found at Lake Wilderness Arboretum while seated in the Lodge's comfortable lake-view classroom . She will also share a bit about some of the great educational programs and opportunities at the Arboretum. If you would like more information about this program, or scheduling a presentation or tour for your group, please contact us at tours@LakeWildernessArboretum.org or call 253.293.5103.
Submitted by Cindy Ostermann, LWAF Docent CoChairman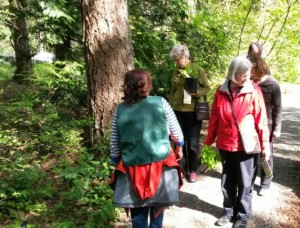 Because of the dedication of our tireless volunteers, our ever-expanding partnerships and community outreach efforts, we are finding that our 42-acre Arboretum is becoming a desirable destination and a vital regional resource for a diverse group of visitors from the Puget Sound region and beyond.
We hope that you, your family and friends can make a visit to the Arboretum at least once each season, whether you stroll along level gravel paths around our display gardens and collections, hike our rustic forest trails or participate in one of our educational programs, like a docent tour.
Free Guided Walks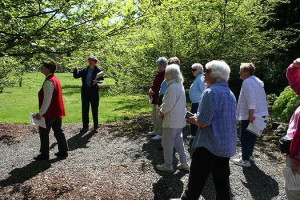 From April to October, free guided walks leave from the Arboretum Gazebo at 10:00 a.m. on the third Saturday of each month, led by volunteers called docents. Docents are trained by Master Gardener volunteers and Arboretum staff on the details and history of every garden, collection, forest reserve and feature of the Arboretum.
Upon request, docents can also plan group tours on specific dates or cater a tour to special interests. Group tours on special days can also be arranged by emailing tours@lakewildernessarboretum.org. Docent volunteers can also help arrange parking for bus tours and recommend local restaurants, etc. to make the afternoon a truly memorable experience.
Volunteer as a Docent
The Lake Wilderness Arboretum Foundation is always looking for new volunteers who would like to help with our docent programs. The time commitment is approximately four to eight hours per month from January through October. For more information on our docent program or Lake Wilderness Arboretum, please contact the Arboretum at info@lakewildernessarboretum.