Explore the Tribal Life Trail and learn about the native cultures of the Pacific Northwest.
June 5, 2010 marks the grand opening of the Tribal Life Trail, a foot path that meanders 270 feet in and out of the shady forest edge along the Arboretum's sunny Meadow. Plants historically used by Native Americans for food, medicine, ceremony, clothing and utility are showcased.
The Culinary Section features Wild Strawberry, Trailing Blackberry, Tall Oregon Grape and Hooker Onion. These plants and many others were used as a source of food.
The Medicinal Section features Wild Ginger, Licorice Fern, Columbine and Sword Fern. These plants and many others were used to treat a number of maladies from sore throats to wounds and stomach troubles.
The Ceremonial Section features Sword Fern, Red Columbine and Snowberry, which when plentiful were considered to be an indication a bountiful salmon run.
The Clothing Section features the Western Cedar, which was used for making clothing and hats by pounding the roots and bark until they were soft.
The Utilitarian Section features Bear Grass, Birch Serviceberry and Red Osier Dogwood. These plants and many others point to the resourcefulness and creativity of Native Americans.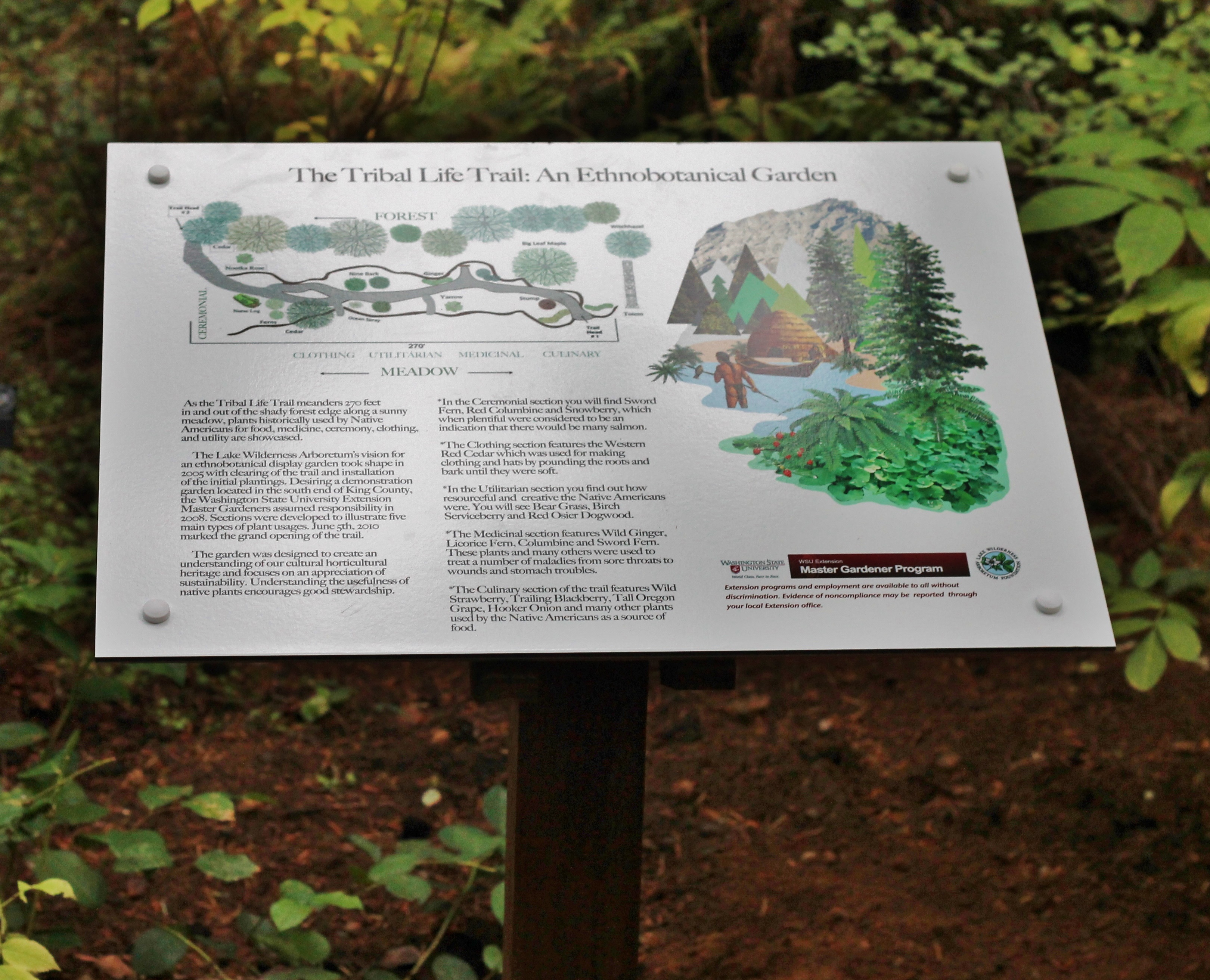 A new sign for the Tribal Life Trail features a map, interpretive artwork and details about this example of ethnobotany, the branch of ethnobiology that studies plant lore and agricultural customs of a people or primitive society. The Lake Wilderness Arboretum Foundation's vision for an ethnobotanical display garden took shape in 2005 with clearing the area for the trail and installing initial plantings. The Washington State University Extension Master Gardeners assumed responsibility for trail maintenance in 2008, as a demonstration garden located in the south end of King County.
A fun and informative outing for the whole family, a walk down the Tribal Life Trail both educates and inspires us about how the native tribes in Washington used their natural resources in their everyday life.
Lake Wilderness Arboretum is located in Lake Wilderness Park at 22520 SE 248th in Maple Valley, WA.